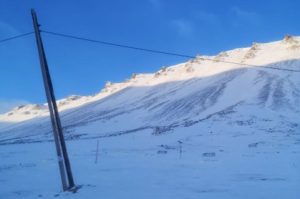 How is warming affecting the vegetation on Svalbard? Svalbard in the High Arctic is one of the fastest warming places on earth, with air temperatures increasing by 3 to 5° C over the last 40 to 50 years, with even more dramatic warming in winter, affecting snow depth and timing of snow melt. Climate change also has implications for reindeer, and the increase in herbivores is expected to lead to a shift in plant communities.
Project description
The experiment Endalen is part of ITEX (the International Tundra Experiment), which is a bigger network of experiments aiming to study changes in vegetation by artificially warming the tundra using open-top chambers. The long-term monitoring site in Endalen was established in 2002. In addition to the warming treatment, grazing exclosures were added in 2015
Tasks
The student will join the ongoing project. You will assist with fieldwork. Depending on when you join, this can entail several tasks.
From March onwards, snow depth, snow profiles, and snow melt-out will be measured. After the snowmelt, soil moisture and NDVI will be recorded. During July we will do vegetation recording with the point-intercept method. During summer, we will carry out repairs at the experimental site (mark plots, repair OTCs, exclosures and weather station), and check for damage by reindeer. Polar bear watch will also be a part of the fieldwork. Possible other tasks entail entering field data
The project involves: Field work
Starting date/period: possible from the beginning of March to the end of August
Prerequisites
Able to carry and handle a rifle. Basic knowledge in ecology.
Experience/skills to be acquired
The student will gain some knowledge on how to maintain an experiment as well as how to conduct abiotic measurements in the field. Depending on timing, the students may also gain some knowledge in plant species identification. The student will also learn how to operate in a high Arctic environment where polar bears can be present.
Involvement
Flexible (max 40h). It is recommended to work at least 7 h/day when being in the field.
Interested in this project or need more info? Contact:
< Simone Lang (simonel@unis.no), Merle Scheiner (107337@student.unis.no)
Project number: 27