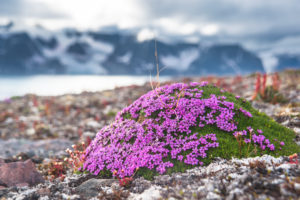 How are plants and pollinators responding to climate change?
Project description:
Arctic flowering seasons are becoming shorter and shifted earlier in response to climate change, while pollinator species are responding differently to climate across the tundra biome. Mismatches between the flowering season and pollinating insects could be driving the rapid decline of pollinator abundance and diversity observed in some long-term monitoring programs.
My research is part of a larger, ambitious project that aims to study the effect of climatic variation on plant-pollinator interactions. To pursue this aim, we combine time-lapse camera with cutting-edge technology (machine learning and computer vision) and climate change experiments. Such a combination allows us to track insect visits on individual flowers at every minute throughout the short Arctic summer.
My focus is on the plant Silene acaulis, a circum-arctic, insect pollinated cushion plant. This summer, cameras will be tracking individual flowers on cushions on ten sites across the Arctic. At each site, each camera will take a picture of a patch of flowering plants every minute, 24 hours a day throughout the flowering season.
Tasks:
Data lab:
The main work of the student will be aiding different flower stage (flower, fruit, withered) in time-lapse images of Silene acaulis. The advantage of this work is flexibility and time and place. However, there will also be a possibility of aiding in field and lab work depending on when the student will join the project.
In field students will help out on:
– collect seeds from Silene acaulis
– take images of surrounding Silene populations
– establish  a pollinator-exclusion project
Depending on which on involvement, the student will have to enjoy long days in the field, attention to detail in the lab and image analysis.
The project involves:
Data analysis (flexible), field work in Bjørndalen (July) and lab work (autumn).
Starting date/period:
1 March – 1 Feb 2021
Experience/skills to be acquired:
The student will gain knowledge on how to conduct a long-term monitoring project of plants and insects in the Arctic. Furthermore, the student will gain insight into how we can apply state of the art technology (machine learning and computer vision) to ecological hypothesis. Such experience will be very useful in future scientific work and interdisciplinary cooperation.
Involvement:
Flexible (max 40h).
Interested by this project? Need more info? Contact:
Rebekka Ween
Project number: 10